Wilfried Zaha might be the most pleasing player that people aren't watching this season if that makes any sense to you.
While most are focusing their attention on Pep Guardiola's Manchester City team waltzing their way into the echelons of Premier League history, or perhaps focused on the unhealthy growing trend of inflated player prices, my eyes are drawn elsewhere.
It is in Crystal Palace where my attention is held a willing hostage. Selhurst Park to be exact, where a not-so-young-anymore – Zaha is rebuilding his craft that will one day see him sail away towards a bigger club.
He was once offered that big move earlier in his career when the Theatre of Dreams sang its enchanting tune for him, though prematurely. The Championship – at the time – was his playground, and what was left in his wake were strewn bodies, defeated by a combination of his grace and skill.
So United came knocking, uplifting him from the Championship to the Premier League, to the big time. Though, his move never quite panned out. The reason varies on who you ask, but Zaha soon returned back to the place where he wore a smile on his face, Selhurst Park.
Not wanting to stay long in the past, we arrive at the present day. We meet a matured Zaha, whose slender body of the past has now attached itself to muscle and size. He has built his stature up to fight against the harsh winters of the Premier League's physicality.
Palace themselves, started this season in poor fashion, almost destined for the drop, but still, there was one shining beacon that emitted the light that attracted me.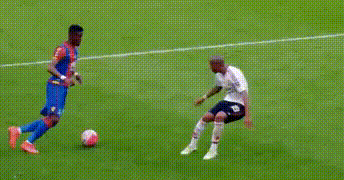 He slaloms over futile tackles with lithe movements that leave me questioning whether he'd be a gold medalist in the Winter Olympics if his chosen sport was not football. His legs crossover at dizzying speeds, moving in the same motion as an electric whisk on the verge of baking your brain into a confused frenzy. Throwing into the mixing bowl his blistering pace, Zaha sends Palace fans into ecstasy when the ball sits at his feet.
But with great power comes sometimes irresponsibility. Zaha has been spoken about in the media, though not in a way that you would like, nor I. At times this season he has been questioned about his acts of simulation, with some factions on social media championing for retrospective bans.
The Ivorian born 25-year-old divides opinion. His playing style invites trouble, but dare we beat his provoking artistry out of him? Is it showboating or expression? Did he go down easy or was there contact? As I said, he divides opinion.
My biggest regret is that I won't have the chance to witness him paint the World cup in his image this summer. He chose his country of birth, Ivory Coast over fighting over swathes of hurdles to play for England, yet he was unable to take his country to the biggest stage. I'd happily trade my three wishes for a chance to see him play amongst the best in Russia if it were possible.
Regardless, Zaha is slowly rebuilding his craft that will best the harsh currents of a move to a bigger and more fruitful club. I have a strong feeling that this time, he won't end up washed ashore.